Main content starts here, tab to start navigating
~ In Loving Memory of ~
Barbara Maria Bischof
maiden name Dorfler
October 1, 1969 ~ April 29, 2017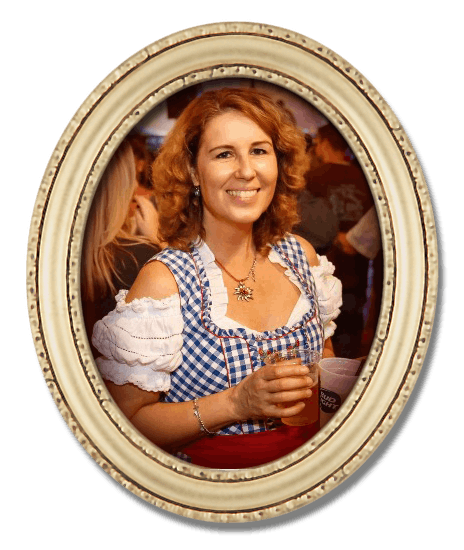 Barbara Maria Bischof
Maiden name Dorfler, born October 1, 1969 in Carinthia, Austria, and passed Saturday, April 29, 2017, in Newport Beach, California. 47 years young, Barbara leaves behind her husband Bern Bischof and her two sons Markus 18, and Matthaeus 15. She is the princess of Old World and her legacy will never be forgotten. God received an amazing angel.
Barbara Maria Bischof was the youngest of seven children born on October 1st, 1969. Since she was the baby, she naturally earned a special status, being loved and spoiled by her large family.
Her career choice became evident during her childhood years. One of her favorite toys was a small safe where she would store her treasures. When opening the safe, she would always turn toward a corner and not share the lock combination with anyone, which she would change regularly.
Barbara began school at the age of seven. She was a student at the Volks and Hauptschule in Feldkirchen and later at the Frauenberufsschule in Klagenfurt. School was a breeze for Barbara. She was a great student, diligent, and on-point in everything she did.
After receiving her diploma in 1989, she applied for a job at the local Sparkasse/Savingsbank and started her career there. Due to her friendly and happy personality, she fit right in and did very well.
Barbara developed a great relationship with her coworkers and formed dear friendships. Many lasted over two decades, and some later became wonderful long-distance friendships.
In 1992 Barbara met her soon-to-be husband, Bernie Bischof. Bernie was visiting his friend and former manager of the Old World Restaurant, Christian Cusner, in Corinthian, Austria. They visited a local bar, and Christian invited one of his colleagues at the bank to join them. It was Barbara. Bernie and Barbara were a perfect match, and Barbara met her soulmate that evening. Barbara was a beautiful 23-year-old, and when Bernie laid eyes on her, he immediately felt a connection.
A few years later, Barbara wrote Bernie a birthday card. Bernie was traveling to Germany the following November and reached out to Barbara during his travels. The pair met up in Austria and officially started their relationship. Bernie invited Barbara to visit him in the USA, and she took him up on his invitation. They traveled to Las Vegas, San Francisco, Santa Barbara, and on this trip they fell in love. By now, it was December of 1996.
After only two weeks together in the states, Bernie told his family and friends that he believed Barbara was "the one" and wanted to spend the rest of his life with her. Barbara was 27, and Bernie was 37 at the time. Bernie then asked his sister, Cyndie, to help him pick out an engagement ring. Bernie found the perfect ring and made reservations at Orange Hill Restaurant in Orange, California. The night before Barbara returned to her homeland of Austria, Cyndie planned an engagement party. Nobody believed Bernie would ever settle down, so when Cyndie called everyone in Bernie's phone book to attend an engagement party, they came. 100 people filled the Old World Lounge and Bar, and the group waited for Bernie and Barbara to join the celebration. When Cyndie asked Bernie what happens if Barbara declines your proposal, Bernie simply replied, "She is going to say YES!" Of course, Barbara said yes that night, and she was ecstatic. Bernie was after all, her soulmate.
Barbara had no idea that while they were out for dinner, her future sister-in-law called everyone her family knew, and almost everybody showed up within hours to come and meet the new fiancé. Bernie and Barbara came, and they were both shocked as to how many people were there. It was a great party, and everyone adored Barbara even though they had just met her.
The following day Barbara flew back to Austria, and Bernie booked his flight soon after so he could formally meet Barbara's family and officially ask for her hand in marriage. When Bernie arrived in Munich, Germany, Barbara's Brother Peter and Brother-in-Law Robert picked him up from the airport and drove him to their hometown in Klagenfurt. They asked all sorts of questions to get to know Bernie better— this new American lad. A foreigner who had asked for their baby sister's hand in marriage. When they arrived at the family home, Bernie met Barbara's parents, Gottfried and Waltraud. Barbara's mother, Waltraud offered Bernie some hot tea. After several cups of tea, Bernie kept eyeballing the homemade schnapps on the table. Bernie then said to Barbara's eldest sister, Maria, that he would rather have a shot of the schnapps. Barbara's family was pleased he liked their homemade schnapps. After being drilled with many questions, Bernie finally looked at the family and asked if there was anything else they wanted to know about him. The family laughed and was pleasantly surprised that Bernie would confidently ask them if they had any more questions. Everyone in the room knew at that moment that Bernie and Barbara would be the perfect pair. Barbara's father granted his baby daughter's hand in marriage, and they were officially engaged.
A few months later, in May of 1997, Barbara Doerfler became a Bischof. Bernie's family and friends flew to Austria and witnessed a beautiful love story blossoming and a fairytale wedding that would be talked about for years to come.
The wedding ceremony was in a church built hundreds of years prior, and the reception was in a castle where real deer approached the glass doors surrounding the building to peer inside the festivities. The setting was a majestic, tranquil forest and nothing Bernie nor his family were used to seeing back in Orange County. Barbara was a gorgeous bride, and her smile radiated the entire day. Barbara had found her lifelong partner, for better or worse.
Barbara came to live in the USA, and her life would forever change. She came from a quiet small farming town to a bustling beach town in a German village called Old World. Need I say more? It was pretty overwhelming for Barbara initially, but she quickly adapted, stepped in, and was the best wife any man could dream for.
One year later, Barbara gave birth to their firstborn son, Markus Josef Bischof, on July 25, 1998. What a joy he was— a healthy, happy baby boy. Three years later, on November 16, 2001, Barbara and Bernie welcomed their second son, Matthaeus Gottfried Bischof. Another healthy, happy baby boy. Two darling sons, born into a loving family. The new family of four lived a good life. Barbara dedicated her entire world to Bernie and her boys. She cooked, cleaned, worked the family business, and got her boys to and from school, soccer practice, Tai Kwon Do, and much more. Barbara managed all the bookkeeping and financials for Old World and was happy doing so as she also spent quality time with her family and friends while traveling back to her homeland, Austria, every year.
In 2013 Barbara was diagnosed with breast cancer. She was strong, young, and this devastating news shocked Barbara, who believed she was healthy. She fought the fight of her life for four long years. Barbara was a private person, and most people didn't even know she was sick. As Barbara handled most situations in life, she was calm, poised, and steadfast. She was diligent in living a healthy lifestyle by eating healthy and exercising. She never complained about being sick and did what she did best, love her family till the very end.
Barbara was determined to be free of cancer. Finally, our dear Lord and Savior decided it was time for her to come home and be cancer-free. Surrounded by family and over 80 friends, the hospital was flooded with mourners to say their farewell goodbyes to the princess of Old World and our dear Barbara. A sweet, humble farmer's daughter from Feldkirchen left us on earth to start her eternal life in heaven alongside her father Gottfried, her eldest sister Maria, her grandparents, and her mother-in-law Dolores Rose Bischof. Together they now soar with the Angels until we all meet again.
Her final wish was to ensure that her three boys were well taken care of, for her sons to graduate, follow their dreams, and most importantly, live happy lives. Barbara was fearless, and at the very end of her life, her final words were not that she was scared to die but that she was worried about her men, Bernie, Markus, and Matthaeus. That was Barbara, always putting the needs of those she loved first.
Barbara Maria Bischof passed away on Saturday, April 29, 2017, surrounded by family and friends. Her legacy will live on, and she will never be forgotten.
Barbara was a wife, mother, daughter, sister, aunt, and friend. Rest in peace, our beautiful Barbara.