MAUI FUNDRAISER 2023
Wed., Sept. 6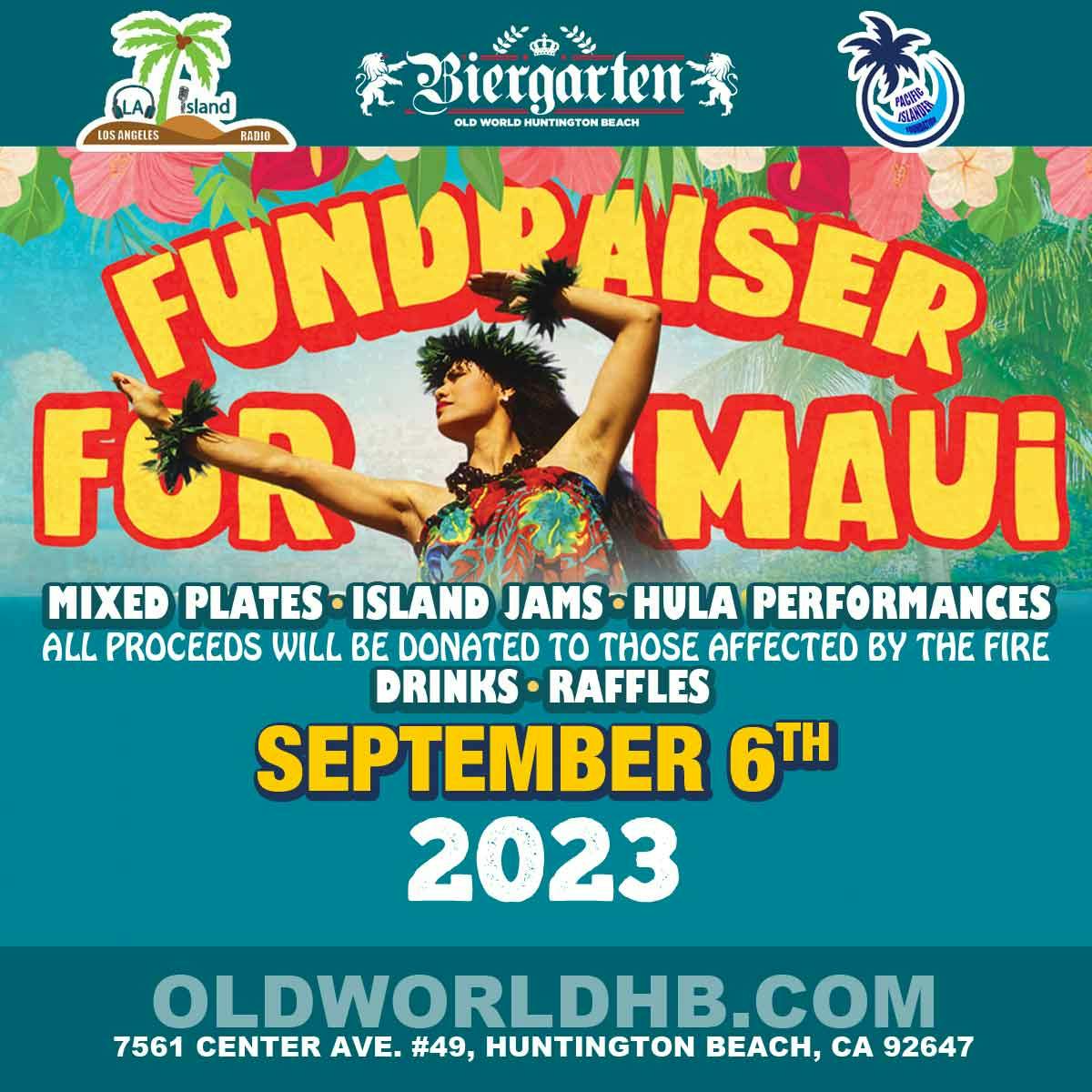 **MEDIA RELEASE**
HUNTINGTON BEACH, CA – August 22, 2023
ORANGE COUNTY'S BIERGARTEN at OLD WORLD sponsoring a Benefit Show event for Maui Fire Recovery in Lahaina: A Night of Support and Celebration

WEDNESDAY, SEPTEMBER 6th, 6pm-11pm
In response to the recent devastating fire in Lahaina, Maui, the Pacific Islander Foundation, in collaboration with Island Radio of Huntington Beach, Tupua, Melissa's Murals, Nice & Swell, Back Home in Lahaina, Kalama Brothers, Danny Maika, Diverse Official and The Biergarten at Old World, is organizing a heartfelt fundraising event to support the recovery and rebuilding efforts of our friends on the island of Maui.
The fire that engulfed parts of Lahaina has left a deep impact on the community, and now is the time for us to stand together and extend our helping hands. We believe in the strength of unity and compassion, and our event aims to bring people together for a noble cause.
Event Details:
Date: Wednesday, September 6, 2023
Time: 6pm-11pm
Location: The Biergarten at Old World, 7561 Center Ave. Huntington Beach CA 92647
The evening promises to be a memorable one, filled with positivity, support, and celebration. Attendees can look forward to an authentic Hawaiian benefit show, complete with mesmerizing performances that will transport you to the enchanting shores of Maui. The tantalizing aroma of traditional Hawaiian food from many local Hawaiian restaurants will fill the air, offering guests a delightful culinary experience. Complementing the delectable spread, a full cocktail bar will be available, serving up refreshing drinks to lift our spirits.
All proceeds from the event will directly benefit Pacific Islander Foundation, a trusted organization dedicated to aiding the recovery and restoration of Lahaina's beloved community. By attending this event, you're not only contributing to the immediate relief efforts but also supporting the long-term sustainability and resilience of the city against potential external pressures. .
"Pacific Islander Foundation was created and designed to help Pacific Islanders in time of need. Our Kokua (help) encompasses school scholarships, various community programs and support for islanders that require humanity assistance. Our foundation embraces the Aloha Spirit with love🌺"
We extend our warm invitation to everyone who cares about Maui and its future. Join us on this special evening as we come together to help our friends in need and show our solidarity with the beautiful island of Maui.
Tickets for the event will be available for purchase through calling 657-662-6428.
For more information and updates about the event, please visit our website at www.OldWorldHB.com or contact Julie Jones from the Pacific Islander Foundation at 657-662-6428.
Let's stand as a united front and make a difference in the lives of those who need it the most.
About Island Radio of Huntington Beach:
Island Radio of Huntington Beach is a prominent radio station known for its dedication to promoting culture, unity, and community well-being. Through their programming, they provide a platform for local and global issues that matter.
About The Biergarten at Old World:
The Biergarten at Old World is a vibrant venue that combines the charm of traditional German architecture with modern hospitality. Known for hosting a variety of events, they are proud to contribute to the betterment of communities.
Together, let's rebuild and restore Lahaina's spirit!