OKTOBERFEST 2023
SEPT. 17 thru NOV. 5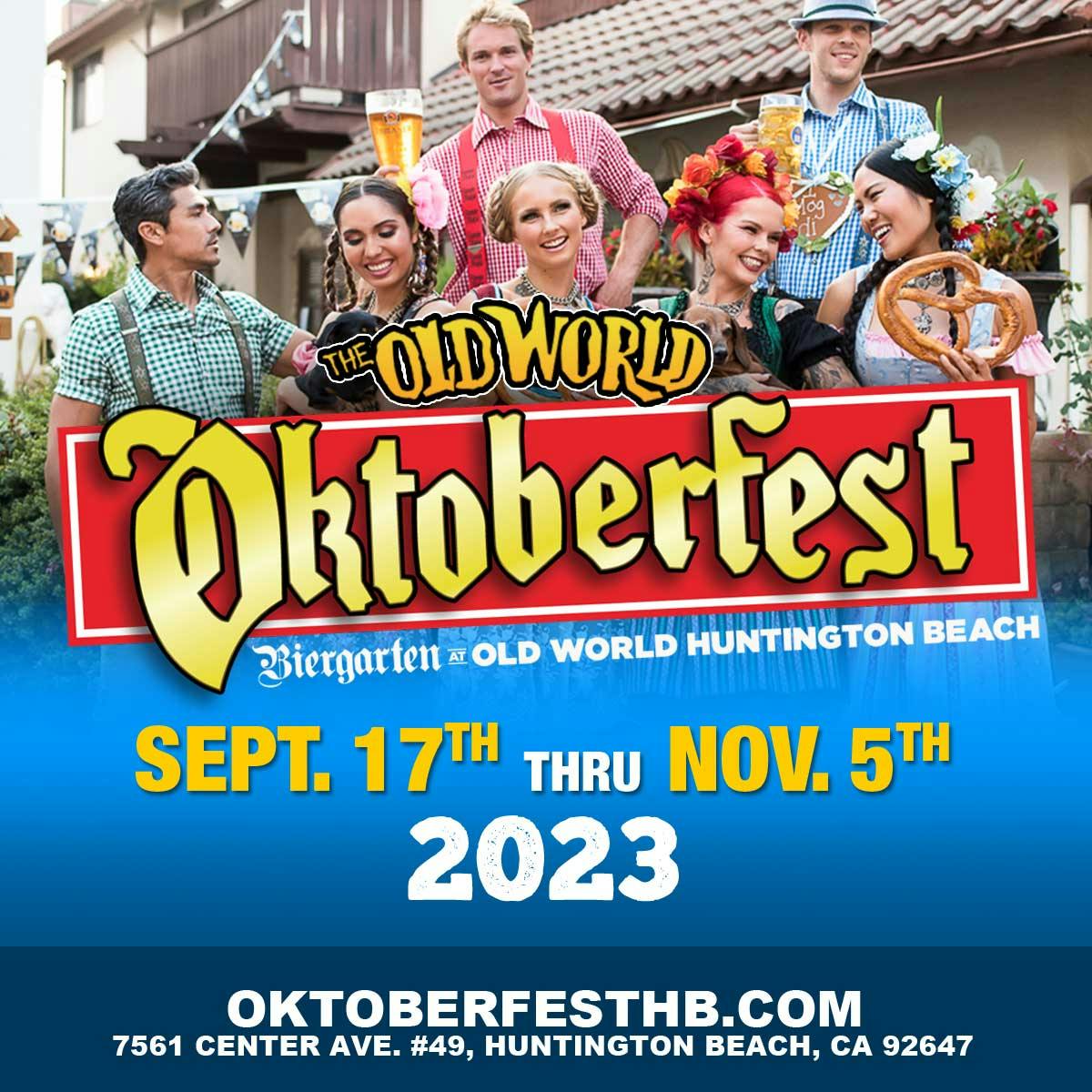 **MEDIA RELEASE**
HUNTINGTON BEACH, CA – August 15, 2023
ORANGE COUNTY'S ICONIC OKTOBERFEST
RETURNS FOR THE 45th ANNUAL CELEBRATION AT OLD WORLD, HUNTINGTON BEACH
SEPTEMBER 17 THRU NOVEMBER 5
Get ready to don your lederhosen and polka your heart out as Orange County's Original Oktoberfest kicks off its 45th annual celebration at The Biergarten at Old World German Village in Huntington Beach. From Sunday, September 17th to November 5th, immerse yourself in the vibrant sights, sounds, and flavors of Germany as you dance the Chicken Dance, enjoy authentic German Oom-Pah-Pah music, and indulge in brats, pretzels, and beer.
A Tradition Like No Other
Nestled within the heart of Huntington Beach, The Biergarten at Old World is proudly hosting the ultimate Oktoberfest experience since 1978. Join us for eight weeks of non-stop festivities featuring live German Oom-Pah-Pah band The Blue Birds & Marko direct from Europe, voted "Best Bratwurst" in California by Hells Kitchen, and a selection of over 60 imported German beers. With the charismatic MC Tommy Kazoo and a bevy of beautiful Shot Hostesses, the motto "Eat, Drink, Dance and be Merry" comes to life like never before.
An Oktoberfest for Everyone
Wednesdays & Thursdays
Gather your family and friends for evenings of celebration open to all ages (under 21 must be accompanied by a parent) from 6pm to 10:30pm.
Fridays & Saturdays
Get ready to party as the festivities continue from 6pm to 1:00am for those aged 21+ with valid ID.
Sundays
Wind down your weekend in style with an all-ages afternoon session from 2:00 pm to 7:30pm.
Visit the website
For pricing details and a comprehensive schedule visit www.OldWorldHB.com
Opening Day Fundraiser
Join us for the Opening Day Fundraiser on Sunday, September 17th from 1pm-6pm, benefiting the Huntington Beach Kiwanis. For just $15, enjoy entry and a meal ($26 value), while supporting a great cause through auctions and prizes.
German Day
Celebrate German Day on Wednesday, October 4th from 6pm-10:30pm, as we honor the contributions of Germans who shaped modern America. Indulge in a $10 meal ($26 value) with a choice of Oktoberfest Bratwurst or Meatloaf with mashed potatoes & gravy.
Wiener Dog Races
Don't miss the adorable Wiener Dog Races on the cobblestone streets of the Old World Village. Witness the short-legged wieners compete on September 17th, October 15th, 22nd, 29th, and November 12th. Spectator parking is free, and race admission starts at only $5.
For more information and tickets on Dog Races, visit: WienerDogRaceInfo.com
Local Delights
While at The Biergarten, explore local craft vendors and savor the delights of eateries such as Grinderz, Crème De La Crepe, Pamela's Tea House, Esthers Place, and The Biergarten Restaurant at Old World.
Join the Celebration at Biergarten at Old World Huntington Beach!
Oktoberfest Event Details
Location: The Biergarten @ Old World HB Concert Venue, 7561 Center Avenue, Huntington Beach
Tickets: Available at OktoberfestHB.com
Public Information: Visit www.OldWorldHB.com
----------------------------------------------
About Old World
in Huntington Beach, CA
Old World Village was meticulously crafted by Josef Bischof, a German developer who arrived in the United States in 1952, bearing a vision to share a piece of his homeland with others. Together with his family, he constructed 50 homes above 50 shops, all in the traditional Bavarian style, in Huntington Beach. Illuminating the cobblestone streets are imported lanterns, while the walls boast 70 vivid murals depicting scenes from 18 European countries. The village comprises a church for worship, a hall for gatherings and wedding receptions, a garden gazebo, a restaurant, bakery, deli, and a market. Opened to the public in 1978, Josef's children, Bernie Bischof and Cyndie Kasko, along with their own children, continue to uphold the family legacy and share these cherished traditions for everyone to relish.
Since 1978, Old World Village, Huntington Beach has been the cornerstone of Orange County's Oktoberfest festivities. Situated between the 405 freeway and Golden West College, Old World delights visitors with authentic German cuisine, live entertainment, and a rich cultural experience that celebrates the best of Germany right in Southern California.
Vist: https://www.oldworldhb.com/about
For press inquiries, interviews, or media access, please send an email to info@oldworldhb.com or call 714-895-8020