PLUM FEST 2023
Sunday, August 27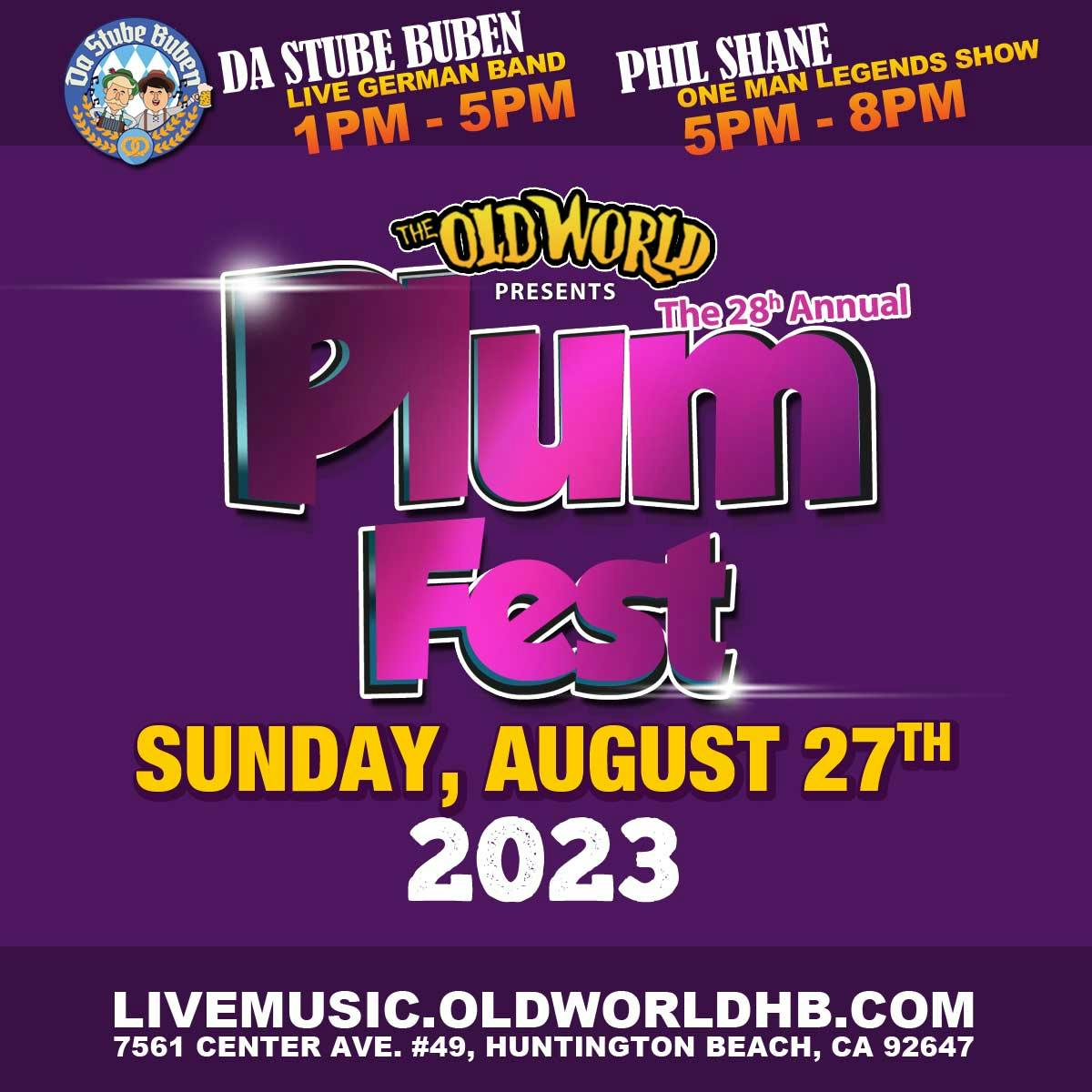 **MEDIA RELEASE**
HUNTINGTON BEACH, CA – August 21, 2023
OLD WORLD HOSTS 28th ANNUAL PLUM FESTIVAL
WITH PFLAUMENKUCHEN (Plum Cake), Plum Treats, Infused Cocktails, and German Band DA STUBE BUBEN


SUNDAY, AUGUST 27th, 12pm-6pm
Immerse yourself in the enchanting atmosphere of Old World Village, Huntington Beach, as it welcomes the 28th edition of the highly anticipated Plum Festival. What initially began in 1995 as a heartfelt tribute to the First Lady of The Old World Village, Dolores, for her unwavering love for plum cake, has blossomed into a spectacular yearly celebration.
Join us on Sunday, August 20th, for this FREE, family-friendly event filled with live German music, captivating folk dancers, delectable plum cakes, plum puff dough strudel, homemade plum jam and juice, mouthwatering plum Berliners (sugar-coated plum-filled donuts), invigorating plum schnapps, delightful plum martinis, and other exquisite plum delicacies available for purchase.
Inspired by the vibrant spirit of the Strawberry Festival in Garden Grove, we pondered why Huntington Beach couldn't have its own Plum Festival. So, we commissioned our talented bakers at the Old World Bakery to create the irresistible Pflaumenkuchen, a special plum cake made with rare Italian plums that ripen for a fleeting period in mid-August. The response from our cherished guests was overwhelming, demanding that we carry on this tradition year after year.
From 12:00 pm to 6:00 pm, families can relish in the plethora of plum-infused delights prepared by our expert bakers at GermanDeli.com. In addition, indulge in our legendary Bratwurst on a roll, Goulash, Pork Shank, Hamburgers, Schnitzels, and an extensive selection of authentic German beers on tap. To transport you straight to the heart of Germany, we have a talented German band ready to entertain you throughout the festival.
Admission and parking are both FREE, allowing you to fully immerse yourself in this enchanting experience.
Join us at Old World Huntington Beach, located at 7561 Center Avenue in Huntington Beach.
For further details, kindly visit Biergarten's website at https://www.oldworldhb.com
For more PlumFest details, visit:
https://livemusic.oldworldhb.com
https://www.oldworldhb.com/plumfest
ROCKTOBERFEST 2023
Save the date for the 3rd annual Rocktoberfest, featuring an incredible lineup of bands such as Tijuana Dogs, Devotional Depeche Mode, Queen Nation, M Street, The Reflexx, 90s' Rockshow, and Sega Genecide.
Join us from September 1st to September 16th. Keep an eye out for ticket sales, and follow us @biergartenHB for further updates.
Visit: https://www.rocktoberfesthb.com
OKTOBERFEST 2023
Lastly, mark your calendars for the highly anticipated 45th annual Oktoberfest, commencing on September 17th and running until November 5th. Experience the lively ambiance filled with authentic German Oom-Pa-Pah bands, charming shot girls, exhilarating beer drinking contests, and more, every Wednesday through Sunday.
Visit: https://www.octoberfesthb.com
Join us at the Biergarten at Old World Huntington Beach
Bis nächstes Mal… (until next time)
----------------------------------------------
About Old World
in Huntington Beach, CA
Old World Village was meticulously crafted by Josef Bischof, a German developer who arrived in the United States in 1952, bearing a vision to share a piece of his homeland with others. Together with his family, he constructed 50 homes above 50 shops, all in the traditional Bavarian style, in Huntington Beach. Illuminating the cobblestone streets are imported lanterns, while the walls boast 70 vivid murals depicting scenes from 18 European countries. The village comprises a church for worship, a hall for gatherings and wedding receptions, a garden gazebo, a restaurant, bakery, deli, and a market. Opened to the public in 1978, Josef's children, Bernie Bischof and Cyndie Kasko, along with their own children, continue to uphold the family legacy and share these cherished traditions for everyone to relish.
Since 1978, Old World Village, Huntington Beach has been the cornerstone of Orange County's Oktoberfest festivities. Situated between the 405 freeway and Golden West College, Old World delights visitors with authentic German cuisine, live entertainment, and a rich cultural experience that celebrates the best of Germany right in Southern California.
Vist: https://www.oldworldhb.com/about
For press inquiries, interviews, or media access, please send an email to info@oldworldhb.com or call 714-895-8020