ROCKTOBERFEST 2023
SEPT. 1 to SEPT. 16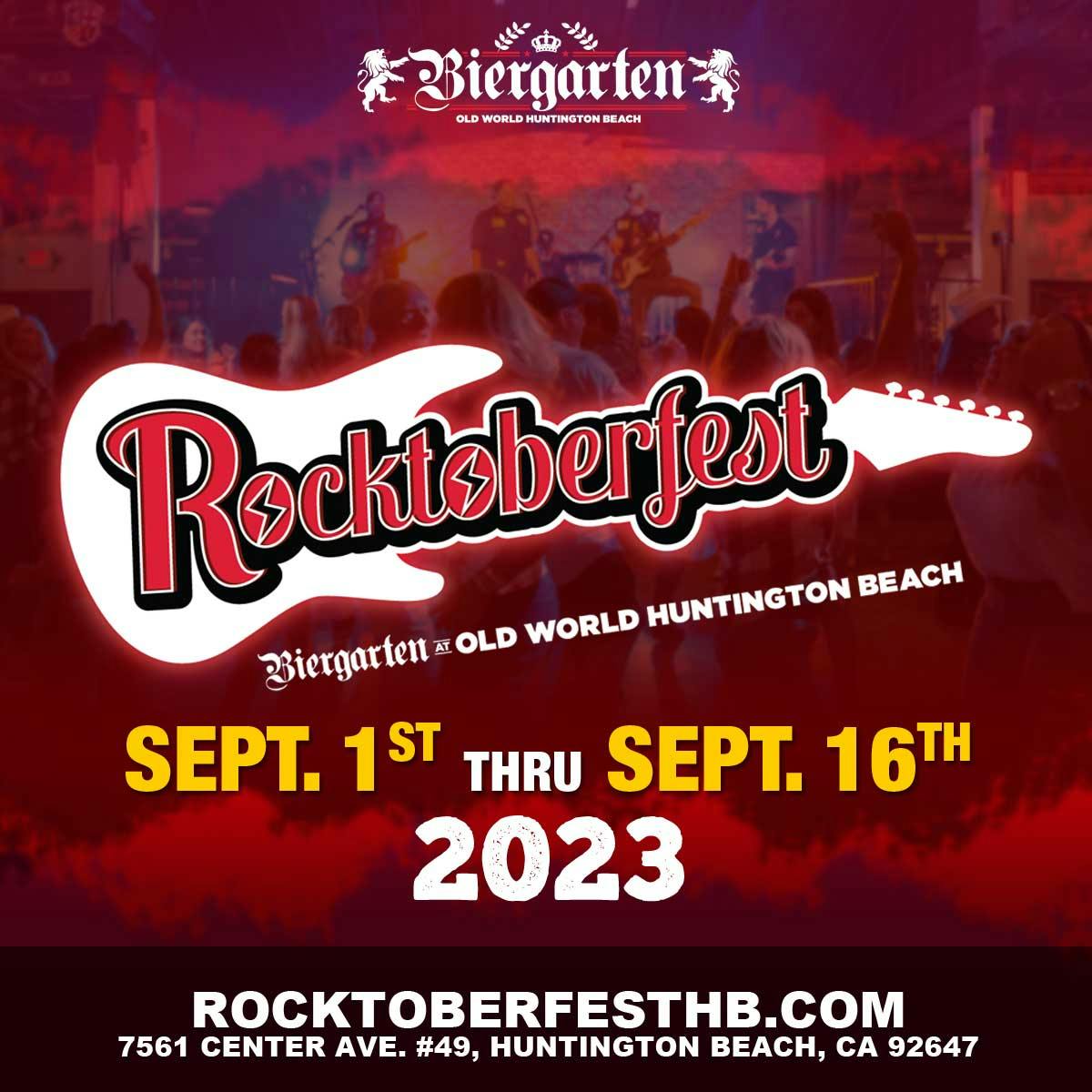 **MEDIA RELEASE**
HUNTINGTON BEACH, CA – August 15th, 2023
ROCKTOBERFEST 2023

A ROCKING CELEBRATION AT THE BIERGARTEN, OLD WORLD HUNTINGTON BEACH
SEPTEMBER 1 THRU SEPTEMBER 16
The Biergarten at Old World is thrilled to announce the return of Rocktoberfest 2023! This sensational music extravaganza will electrify Huntington Beach for three exciting weekends, from September 1st to September 16th (Fridays, Saturdays & Sundays.)

Set against the vibrant backdrop of the iconic Old World Village, Rocktoberfest is set to deliver unparalleled live entertainment, mouthwatering cuisine & drink, and an atmosphere of pure celebration.
For 45 years, Huntington Beach has proudly hosted Southern California's most legendary Oktoberfest, and this year, we're infusing it with a new heartbeat – the pulse of rock and roll! Get ready to immerse yourself in an unforgettable fusion of music, culture, and community.
Rocktoberfest Highlights:
Live Tribute Bands:
Immerse yourself in the sounds of legendary acts with captivating tribute performances from Tijuana Dogs, Flashpants, Queen Nation, 90s Rockshow, Sega Genecide, The Reflexx, M Street, Devotional & Technique, The Contenders, School of Rock of Huntington Beach and more.
Unforgettable Fridays & Saturdays:
Join us every Friday and Saturday starting September 1st through September 16th for nights filled with high-energy performances. These 21+ ticketed events are your passport to an unforgettable experience, with tickets available at OldWorldHB.com or RocktoberfestHB.com.
Family-Friendly Sundays:
Rocktoberfest is for everyone! Sundays are dedicated to free concerts suitable for all ages, where families can come together to enjoy great music and good times.
World-Class Entertainment:
Rock out in our massive 10,000 sq. ft. open-air Biergarten and ginormous Festival Concert Hall. Enjoy live bands, DJs, delicious food, full cocktail bars, over 60 beers on tap, craft cocktails, and plenty of screens for catching your favorite sports action.
Wiener Dog Races:
Don't miss the adorable Wiener Dog Races on the cobblestone streets of Old World Village on September 17th & 24th, October 15th, 22nd, 29th, and November 12th. Cheer on these short-legged racers as they compete for top honors. For more information and tickets on Dog Races, visit: WienerDogRaceInfo.com
Oktoberfest Tradition Continues
From September 17th to November 5th, the 45th annual Oktoberfest will captivate you with live German Oom-Pa-Pah bands, beer drinking contests, and more, running every Wednesday through Sunday. Get Oktoberfest details and tickets at OldWorldHB.com or OktoberfestHB.com
The Biergarten at Old World invites you to join us for an unforgettable celebration of music, community, and the spirit of togetherness. The heart of the Old World Village beats with excitement, and we can't wait to share it with you.
Join us at the Biergarten at Old World Huntington Beach
Bis nächstes Mal… (until next time)
Rocktoberfest Event Details
Location: The Biergarten @ Old World HB Concert Venue, 7561 Center Avenue, Huntington Beach
Tickets: Available at RocktoberfestHB.com
Public Information: Visit www.OldWorldHB.com
----------------------------------------------
About Old World
in Huntington Beach, CA
Old World Village was meticulously crafted by Josef Bischof, a German developer who arrived in the United States in 1952, bearing a vision to share a piece of his homeland with others. Together with his family, he constructed 50 homes above 50 shops, all in the traditional Bavarian style, in Huntington Beach. Illuminating the cobblestone streets are imported lanterns, while the walls boast 70 vivid murals depicting scenes from 18 European countries. The village comprises a church for worship, a hall for gatherings and wedding receptions, a garden gazebo, a restaurant, bakery, deli, and a market. Opened to the public in 1978, Josef's children, Bernie Bischof and Cyndie Kasko, along with their own children, continue to uphold the family legacy and share these cherished traditions for everyone to relish.
Since 1978, Old World Village, Huntington Beach has been the cornerstone of Orange County's Oktoberfest festivities. Situated between the 405 freeway and Golden West College, Old World delights visitors with authentic German cuisine, live entertainment, and a rich cultural experience that celebrates the best of Germany right in Southern California.
Vist: https://www.oldworldhb.com/about
For press inquiries, interviews, or media access, please send an email to info@oldworldhb.com or call 714-895-8020